Kevin Foresman: Past Life Regression Hypnosis, Dallas TX
I'm Kevin Foresman, a Past Life Regression Hypnotist, Reiki Master, Holographic Sound Healer, Mindfulness Practitioner, Spiritual Life Coach, Multimedia Artist and Owner of Enlumnia  in Dallas, TX. I serve as a spiritual artist and energy healer providing advanced forms of past life regression, energetic healing, chakra balancing, sound healing, angel therapy and spiritual coaching. I help my clients heal body, mind and spirit. I lead them to return to an optimum state of balance in their physical, mental, emotional and spiritual being. I am a healing artist and I approach my work as a fun, intuitive, creative and artistic expression of spirituality combining the ancient wisdom and modern practicality.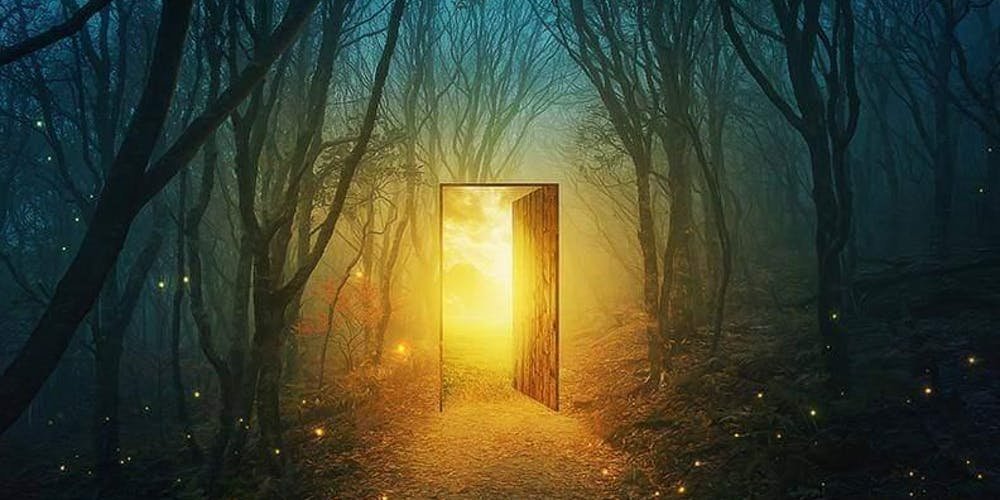 Past Life Regression: Exploring & Healing Past Lives
Past life regression is a technique that uses hypnosis to recover memories of past lives or incarnations. Past-life regression is typically undertaken in pursuit of a spiritual experience. Most advocates loosely adhere to beliefs about reincarnation, exploring potentially repressed memories of past lives. Past-life regression involves the subject answering a series of questions while hypnotized to reveal identity and events of past life events. Many times there is a sense of sadness or anxiety associated with these experiences. Once addressed, the energy can be balanced, released and we can move on in the current incarnation with less karmic baggage.
Kevin Foresman facilitates a unique hypnosis therapy session that helps with habit and behavior modification, past life regression and spiritual contact and healing. Kevin combines his experience with energy healing, meditation and hypnosis in order to help clients overcome deep seated habitual thinking and behavior patterns. This technique is also effective at addressing past lives and their influence in our present lives in order to address past karmic events and energetic associations. He also provides hypnotherapy sessions to facilitate spirit contact between the client and spiritual influences in order to listen, learn, heal and move onward with confidence, focus and determination during this lifetime.
Reiki Sessions: Energy Healing & Chakra Balancing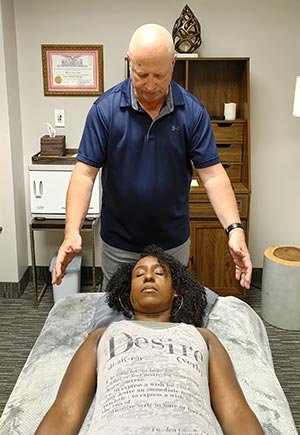 Reiki (pronounced ray-key) is a Japanese energy transference technique and spiritual healing. These frequencies were discovered by Mikao Usui in 1922. This energy healing technique is facilitated for stress reduction, relaxation, and promotes healing. We use reiki for chakra balancing, and combine with massage for ultra relaxation. This is administered by laying hands on the body or in and around the aura.
The healing universal life force energy flows into the chakras, meridians and physical areas of the body needing healing. As a Reiki Master, Kevin is clear channel of source energy guiding the healing energy flowing into your  bioenergetic field. Universal life force energy bathes your body, mind and spirit.  Balance is restored in a natural way creating a state of health, relaxation and well being.
The sessions last for about 75 minutes with a brief pre-consultation, the reiki treatment, and a post-interview. Kevin can also provide chakra readings by use of a pendulum or scanning to determine chakra imbalances and energetic issues. They are available for additional coaching to learn how to keep your chakras balanced, aligned and energized.
Reiki Sessions: $155 – 75 mins.
Reiki Classes, Training & Certification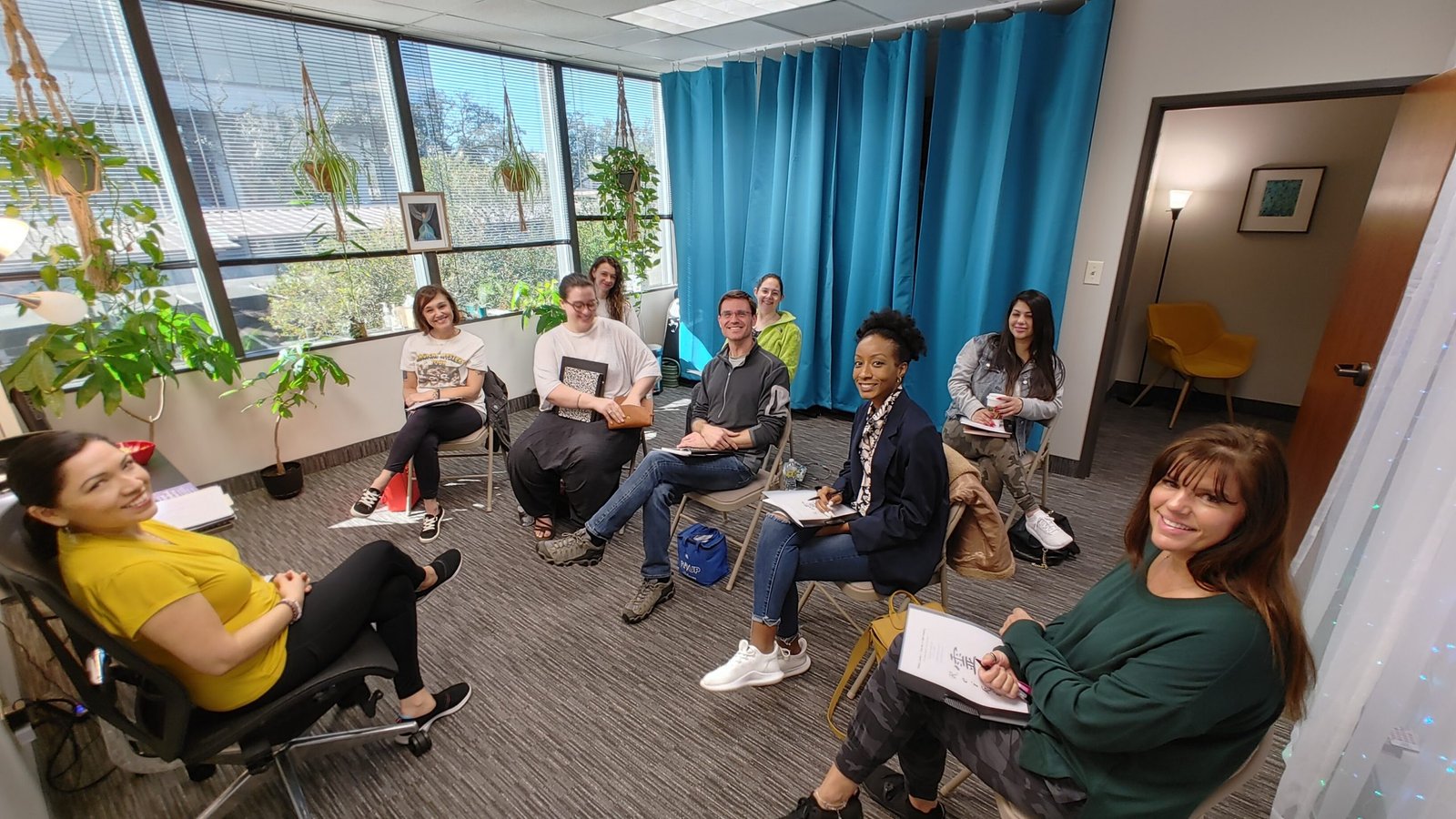 Learn how to heal yourself and others in our in-person Reiki classes. Reiki training can help heal and release stress, anxiety, depression and pain. My wife and fellow Reiki Master Lisa and I teach Reiki classes, including Level 1, 2 and Master These classes and workshops are the perfect solution for you to start or continue on in your personal healing journey.
Reiki classes are offered at all levels including levels 1, 2  and Reiki Master. There are no prerequisites to register for our Reiki 1 class, just a desire to learn and to discover your authentic power and connection to Source.
For more on Reiki Classes, call (214) 810-4816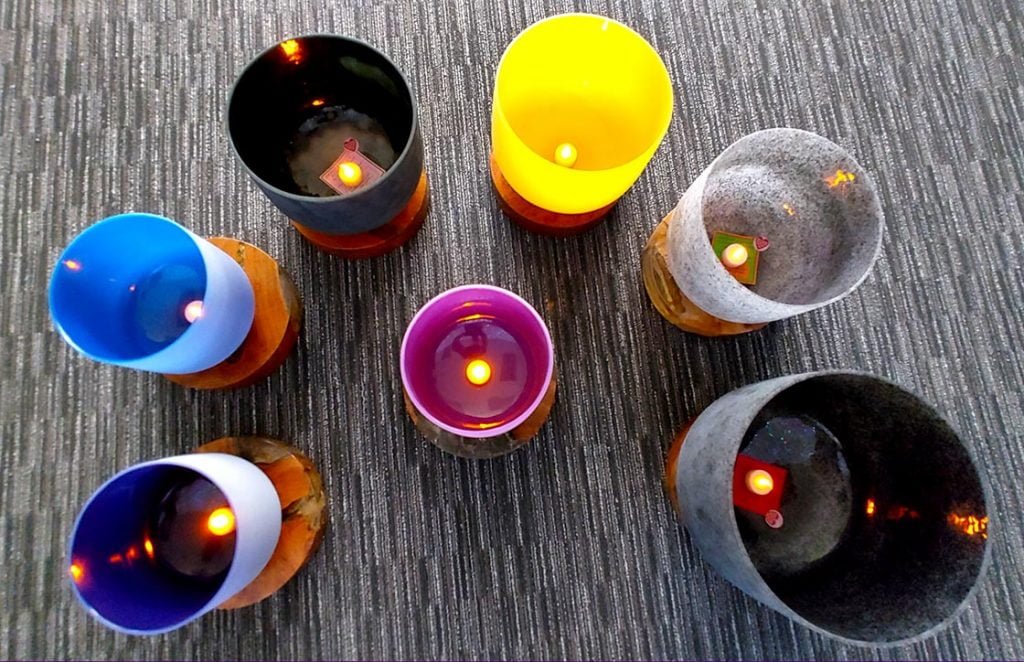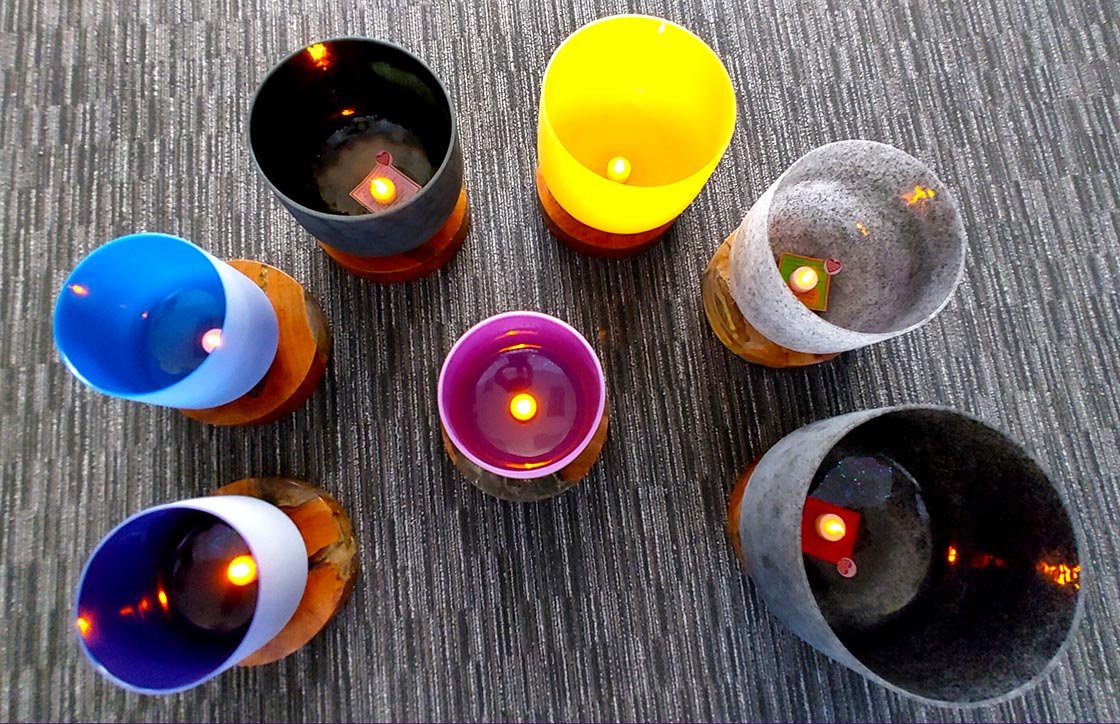 Sound Healing: Crystal Bowls, Tuning Forks, Music, Guided Meditation
Sound Healing is the art of creating and using sound and vibration multidimensionally to heal, balance and align body, mind and spirit. A holographic sound bath is an expansion of sound or music vibration into its sacred geometric, multidimensional and infinite form, bringing the sound to its true and natural state of being. This energy healing process creates an exponential energy or vibration beyond third dimensional understanding.
Sound is Holographic in nature but for the past several thousand years has only been used in linear form because of our inability to hold and work with its higher vibrational state. Simplistically, you may compare sound as we've known and experienced it through these thousands of years, to a flat two dimensional photo. Whereas in simple terms, holographic sound is like looking at a three dimensional vision with great depth, vast intricacies and magnificent colors. Through our evolving consciousness expansion, and/or ascension work, we are again able to hold this higher vibration. Therefore, these specific spiritually inspired techniques utilizing Holographic Sound have been made available to us once again.
Kevin Foresman: Reiki Master, Past Life Regression, Holographic Sound Healer, Artist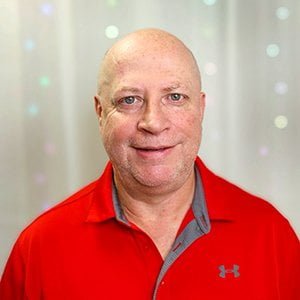 Kevin Foresman, founder of Enlumnia, is a reiki master, past life repression hypnotist, mindfulness trainer, intuitive psychic, reconnective healer, master holographic sound healer, multimedia artist, and ordained non-denominational minister. Kevin has been practicing the art of in-person and long distance healing for nearly two decades. He also facilitates reiki, past life, chakra and angel therapy classes. Kevin is passionate about helping his clients heal energetically by providing a unique combination of healing energy work and spiritual life coaching. His energy healing technique involves being a pure open conduit or channel for source energy to flow through and into the energetic field of his clients, allowing them to release emotional blocks, relieve physical pain, attain deep levels of relaxation, balance and align chakra energy centers, and access higher levels of universal wisdom and personal success. Kevin's method of energy healing is modern, direct and powerful.