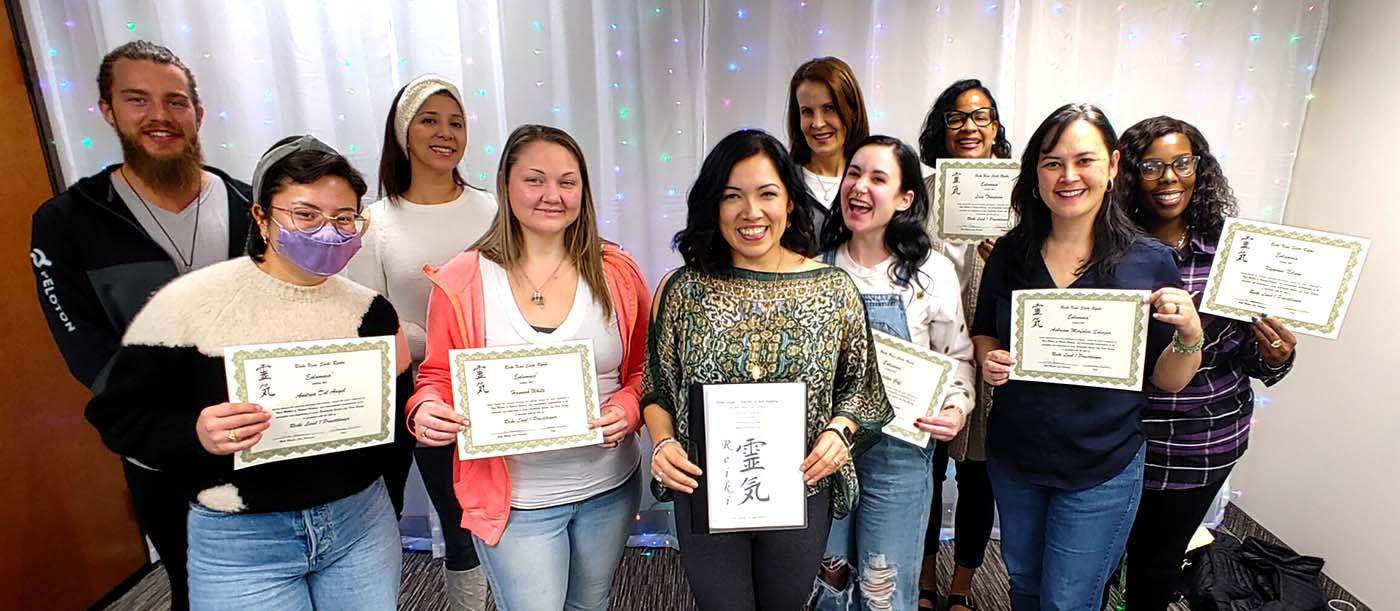 Reiki Class: Reiki Master Training & Certification Dallas TX
Ever wanted to take a Reiki Class? Do you desire to learn about energy healing? Would you like to know more about chakras and the aura?  Learn how to heal yourself and others in our Reiki classes. Reiki training can help heal and release stress, anxiety, depression and pain. Our Reiki classes, including Level 1, 2 and Master, are the perfect solution for you to start or continue on in your personal healing journey.
Reiki (pronounced ray-key) is a Japanese energy transference technique and spiritual healing. These frequencies were discovered by Mikao Usui in 1922. This energy healing technique is facilitated for stress reduction, relaxation, and promotes healing. We use reiki for chakra balancing, and combine with massage for ultra relaxation. This is administered by laying hands on the body or in and around the aura. The healing universal life force energy flows into the chakras, meridians and physical areas of the body needing healing. 
Enlumnia offers Reiki classes at all levels including levels 1, 2  and Reiki Master. There are no prerequisites to register for our Reiki 1 class, just a desire to learn and to discover your authentic power and connection to Source.
Click on dates below to sign up for classes. For help scheduling or for more info, call (214) 810-4816
2022 Reiki Class Schedule: Upcoming Classes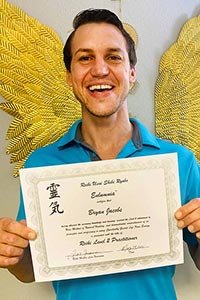 Reiki Level 1 Class: Learning To Feel Energy & Self Heal
Reiki 1 is a beginners class with no prerequisites.  In Reiki 1, we learn how to feel and tap into our own universal life force by scanning our energy. We'll cover the basic history of Usui Reiki, discuss energy healing, and included is a brief overview of the chakras. You'll receive an attunement  for Reiki 1, and you will be encouraged to use Reiki to scan, feel and heal your energetic self.
Click on dates below to sign up for classes. Class is limited to 9 students. For help scheduling or for more info, call (214) 810-4816
Class Fee: $249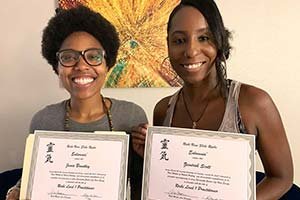 Reiki Level 2 Class: Learning Reiki Symbols & Healing Others
Reiki 2 is an intermediate class which requires the completion of Reiki 1 as a prerequisite.  In Reiki 2, we draw out Reiki symbols that were installed within you and learn how to use them to power up healing, release emotional energy, and to begin to work with family, friends, plants, etc. This is a fun class with lots of hands on experience. You'll receive the Reiki 2 attunement, and be encourages to practice Reiki at a distance as well.
Click on dates below to sign up for classes. For help scheduling or for more info, call (214) 810-4816
Class Fee: $349
Reiki Level 3 Class: Reiki Master Training & Master Symbols
Reiki 3 is the Reiki Master level class which requires the completion of Reiki 2 as a prerequisite. In Reiki 3, we will draw out Reiki master symbols, and learn to work with others as clients. We'll also learn more about distance healing. As you complete this class, you will receive the Reiki 3 Master attunement, and be certified by Enlumnia as a professional Reiki Master.
Click on dates below to sign up for classes. For help scheduling or for more info, call (214) 810-4816
Class Fee: $449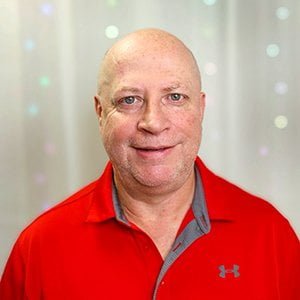 Reiki Master Kevin Foresman
Kevin Foresman is an reiki master healer and trainer, past life regression hypnotist, mindfulness trainer, intuitive psychic, master holographic sound healer, oracle card reader, reconnective healing, and an ordained non-denominational minister. Kevin is passionate about helping his clients self heal energetically by providing a unique combination of healing energy work and spiritual life coaching. His energy healing technique involves being a pure open conduit or channel for source energy to flow through and into the energetic field of his clients, allowing them to release emotional blocks, relieve physical pain, attain deep levels of relaxation, balance and align chakra energy centers, and access higher levels of universal wisdom and personal success. Kevin's method of energy healing is modern, direct and powerful. He also facilitates classes on mindfulness and meditation. Kevin is also an abstract fine art photographer at www.SeeUnSeeN.com.
Learn Reiki and Become a Reiki Master with Kevin Foresman at Enlumnia
Enlumnia offers Reiki Classes at all levels at the Enlumnia Energy Spa in Dallas, TX. The classes are facilitated by Reiki Master Kevin and Lisa Foresman. Learn basic and advanced Reiki healing techniques and how to use them to self heal and to help family, friends, and others to heal. We teach Level 1, Advanced Reiki Level 2 and Reiki Master Level 3, including certification. Our courses are fun, informative and fast paced, including plenty of hands on training and class participation.
Expect a combination of lecture, discussion and training exercises. We will go over essential Reiki topics, including the history of Reiki, introduction to chakras, scanning and feeling energy, grounding,  and aligning your energy. You will also learn Reiki symbols and how to use them. Reiki attunement ceremonies are conducted during the classes.  By classes end, you will be able to demonstrate the 5 Reiki principles and gain a understanding of basic and advanced reiki techniques for self healing, and healing family, friends and clients.
Begin or continue your personal journey of  healing, knowledge and wisdom by becoming a lightworker in the tradition of Usui Reiki energy healing, and meet other like minded healers along the way.
Massage Therapists – Learn Reiki and incorporate this powerful modality into your massage practice to help your clients heal on a deeper energetic level and enhance your own self care. Reiki Master Lisa Foresman, LMT, MTI and Owner of Massage Integration teaches all levels of Reiki. Receive 6 Continuing Education Credits for each level –  Reiki 1, 2 and Master. (CEUs for TX LMTs only).